RESEARCH AND DUPLICATION
We are a non-circulating archival museum, but we wish to make items in our collections available to the public. Research and duplication services are available for a reasonable fee.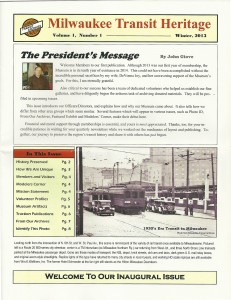 MEMBER PUBLICATION
Friends of the Museum periodically receive our publication, MILWAUKEE TRANSIT HERITAGE. Contributions of articles and photographs by members and non-members alike is encouraged. Remember our focus when making submissions.
Regular features include:
– items of interest from our Archives
– a feature article
– photo gallery
– volunteer and donor profiles
– featured artifacts or documents from our galleries
– passes, tickets, transfers and timetables
– president's message
SPECIAL EVENTS
From time to time, the Friends of the Museum may offer special events or offers to members and their guests. Events and offers will be announced in our publication, to members who provide an email address, and online on our website. We look forward to meeting our members at these events.
MILWAUKEE ELECTRIC TRACTION CLUB
This division of the Museum features both HO and O scale operating trolley layouts, powered by overhead wire, which are displayed either at the Museum or at Milwaukee's TRAINFEST® and other area venues.
Opportunities exist for Friends members to help maintain, set-up and operate layouts, as well as for social networking among other traction modelers. (See the Volunteer section under Membership). The Museum's Archives also contain informational resources for the trolley modeler, as well as photos, slides and DVDs of historic to recent trolley layouts, modelers and their models, mostly within southeastern Wisconsin and northern Illinois.
OUR HISTORIC TROLLEY LAYOUTS
NORTH SHORE LINE MILWAUKEE PASSENGER DEPOT & FREIGHT HOUSE (HO)
This full city block module of Milwaukee's North Shore Line Passenger Depot, trainshed and freight house as originally built was crafted by the late Wayne Hammelman, formerly of Oak Creek, WI and New Braunfels, TX. The depot and trainshed is from a Depots by John kit; the freight house was kitbashed using several kits. A portion of the 6th Street Viaduct connects to a return loop section which is not prototypical of Milwaukee. It is on permanent operating display at the Museum.
KINNICKINNIC VALLEY LIGHT, HEAT & TRACTION (HO)
Created by the late Wayne Hammelman, this 4' x 5' module is a free-lance depiction of Wayne's World, loosely patterned after the Milwaukee Electric and North Shore Lines, and featuring family names. Upon its return to Milwaukee from Texas, this module was awarded Best of Show - Modules at the 2013 TRAINFEST® show in West Allis, WI.
MILWAUKEE ELECTRIC TRACTION CLUB (O)
The straight sections of our own O scale layout are from the original 14-module one created by an informal association of friends that came to be known as the Milwaukee Electric Traction Club. It appeared at TRAINFEST® yearly, and introduced many, including this Museum's President and CEO, to the world of traction modeling.
LAYOUT OF TOM MATOLA (O)